Waterproof World
Kids & Toddler Waders
from £42.50
Not available anywhere else in the UK, here are Waterproof World Children's Waders - the ultimate in puddle-proofing for your kids!!
Tough PVC trousers with built in wellies, our kids waders leave nothing to chance. No more losing boots in the muddiest of muddy puddles! Or, how about these children's waders for the beach in winter?
As featured in The Times and on the BBC Springwatch Trackers TV series.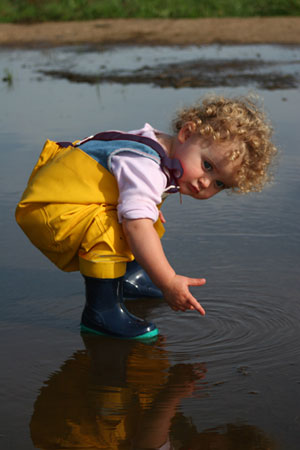 Features include:
Trousers made of heavyweight PVC.
bonded seams
welded on boots
adjustable, elasticated shoulder straps
inside pocket
quality navy boots (style may vary from those shown)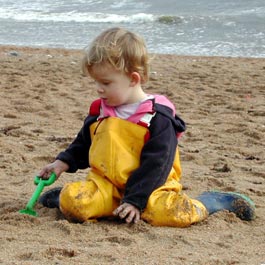 Colours: Yellow with blue boots (boot style may vary from those shown)
Size Guidelines
please select according to child continental shoe size
Colour
Yellow with blue boots (boot style may vary from those shown)
Price
£42.50 size 22 - 24
£44.99 size 26 - 36
Continental boot size
22
24
26
28
30
32
34
36
UK boot size
5
7
8
10
11
13
2
3
Height Estimate (cm)
92
98
104
110
120
128
134
140
If you are buying a little large in the boot size, we recommend purchase of our thermal boot socks. These keep feet warm, and give a better fit if the boot is large. In a lovely thermal cotton fabric - they fit nicely over standard socks to give more warmth round the foot- and unlike a long sock they don't wriggle down inside the boot.
Currently all out of stock
Remember that our waders are not a safety device - children should never play in water unattended.
A lot of testimonials on packaways
and more
and more
and more ....