Wristies
Kids Wristies™ Wrist Warmers
£9.50
Wristies™ are the original wrist warmers from America, and Wristies are brilliant for kids!! Like all good ideas - once you've seen them, they look completely obvious; a simple tube of fleece, like a long hand sock, with a hole for the thumb - yet so many of the pitfalls of kids and gloves just disappear with Wristies!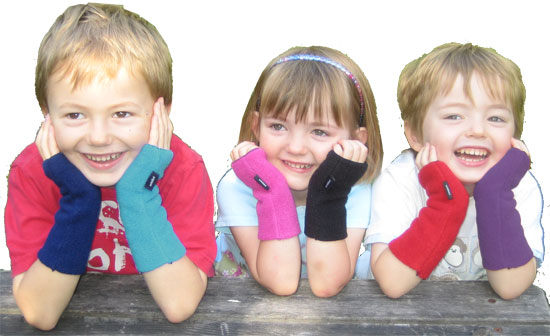 Features include:
Wristies are much easier than gloves for children to put on themselves. They only have to put their thumbs through the thumb hole, no struggling with 5 fingers.
Wrisites are longer than gloves - which means they stay put, and they cover that drafty gap between sleeve and hand.
As much of the forearm and wrist is covered, the arm in general is kept warmer, which keeps the blood flowing to the hands, keeping the hands warmer too. So even though the fingers are exposed (providing the full mobility that children find so frustrating in gloves and mitts) the fingers are warmer and they can play for longer.
Because Wristies are comfy, kids don't need to take them off - no more lost gloves and mitts!
Made from Polartec fleece, they are insulating, water resistant and breathable.
Wristies also make great glove liners for skiing or really cold and wet conditions (no more snow filling the gap between glove and jacket!!)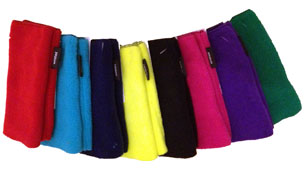 We are completely sold on Wristies - try them and we're sure you'll feel the same!!
We have adult Wristies too; get some for yourself.
Sizes: Toddler (ages 1 - 3years), Small child (4-8 years), Large child (9-12 years)
Colours: Red, Aqua, Navy, Neon Yellow, Black, Hot Pink, Purple, Kelly Green
Sorry sold