Waterproof Clothing for Kids Outdoor Play
We know that outdoors, kids are just irresistibly drawn to mud and puddles and it's not just feet that get wet and dirty! Our goal is to offer the finest choice of product and price ranges for high quality children's waterproof clothes.
Our products are specially chosen for their high performance, not just for keeping the elements at bay and being easy to care for, but also for being practical and comfortable for outdoor play and value for money too.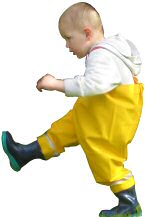 When its really wet and muddy underfoot, head for our exclusive children's waders! However great the waterproofs, a wellie stuck in mud, or a puddle just a bit too deep will still lead to a soggy foot and a miserable child. With our waders you can be sure they are dry snug and warm.
We specialise in Forest School style rainwear from Denmark, where outdoor play is considered essential for kids all year round, whatever the weather. In such harsh conditions, only the best quality outer wear is suitable, so you can be sure our Elka Rainwear range is tough enough to cope with the grimmest British winter, and the most lively play.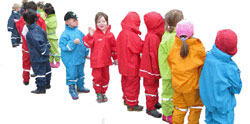 We regularly supply to schools and groups; check out our special Schools Page & Gallery for more info.

We have fantastic choices of outdoor play wear for pre and new walkers. See our Babies & Toddlers page for rain suits, rain coats or dungarees.
---
We are always being asked if we have anything for parents - often by Mums with lots to think about in a short time before a big trip or holiday. In response we've added waterproofs for grown ups to our range including super practical packaways, and Scandinavian jackets, trousers and dungarees in the same comfortable fabrics as the children's ranges. We know that when you've a 'to do' list as long as your arm, getting the whole family's waterproofs sorted out in one go can make life simpler - especially with our service and fast delivery to rely upon!
---
We love to see our products in action, so we have run a series of photo competitions for our customers.
In our latest competition the prize went to Caroline and her cute array of children in waders on the beach in Cornwall. Caroline told us that 'The fantastic waders mean they can have fun playing in the sea whatever the weather.''
'A big thank you to all our contributors for the great pictures - see them here...
Please keep sending in your photos - we love seeing them - and any contributions received will be automatically entered for our next competition (click here for terms).
A lot of testimonials on packaways
and more
and more
and more ....