Waterproof World - for Children's Waterproof Clothing
We know that outdoors, kids are just irresistibly drawn to mud and muddy puddles and it's not just feet that get wet and dirty! Our goal is to offer the finest choice of product and price ranges for high quality children's waterproof clothes.
Our products are specially chosen for their high performance, not only for keeping the elements at bay and being easy to care for, but also for being practical and comfortable for outdoor play and value for money too.


When it comes to keeping children warm, dry and clean as they play outdoors, be it at home in the garden on a damp day; at the adventure playground; or out enjoying real country mud, we think you can't beat waterproof all-in-one suits (from Regatta, Togz or Trespass ) or waterproof dungarees. Team the dungarees with a waterproof jacket, or buy them in combination as a rain suit.
When its really wet and muddy underfoot, head for our exclusive children's waders! However great the waterproofs, a wellie stuck in mud, or a puddle just a bit too deep will still lead to a soggy foot and a miserable child. With our waders you can be sure they are dry snug and warm.
We specialise in Forest School style rainwear from Denmark, where outdoor play is considered essential for kids all year round, whatever the weather. In such harsh conditions, only the best quality outer wear is suitable, so you can be sure our Ocean Rainwear range is tough enough to cope with the grimmest British winter, and the most lively play.
We regularly supply to schools and groups; check out our special schools page for more info.
---
Latest News...
All our waterproofs come with our unique guarantee
Guaranteed to get muddy, if used correctly!
---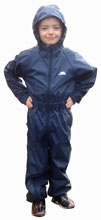 We have just added the Trespass Button All in One Rain Suit to our range. Waterproof & breathable, it is available in sizes up to age 7/8years, which makes it an ideal choice for Early Years and KS1 Outdoor Learning, and at a great introductory price of £17.99 inc p&p.

We are also currently offering a great special price on our ever popular Regatta Puddle Suits - at just £17.99 including delivery and a great SALE clearance price of £22.99 on the winter thermally lined version of this suit!


---
We specialise in outdoor play wear for pre and new walkers. See our Babies & Toddlers page for rain suits, rain coats or dungarees including the Togz range, and our Wellies page for first boots.


---
Have a look at our great clearance bargains on ski wear and winter wear. See our ski jackets, salopettes and suits from Trespass. We also have a wide range of winter accessories including hats, socks, kids ski gloves, goggles and also kids thermals and kids mid-layers.


---
Check out our SPECIALS PAGE for other fantastic clearance bargains, plus we've reduced prices on certain lines all over our website, including our gorgeous Regatta 3 in 1 Coats for Boys & Girls ; all at unbeatable prices.


---
Take a look at our School Coat pages and our 3 in 1 Jackets for a great range of flexible kids back to school coats, jackets and rain capes, including our ever popular packaway jacket (so easy to keep in the school bag); our flexible reversible waterproof/fleece jacket at amazing value ( £23.99 inc p&p!), and our very popular long backed school rain poncho to cover both child and school back pack with hi-viz reflective strips for safety too.
---
Our commitment has always been to bring you high performance, practical and easy care clothing, to keep your kids active outdoors whatever the weather; and all at low prices with no hidden extras.

We are proud to introduce you to Ocean Rainwear from Denmark- super waterproof, and a favourite with schools and groups - in the comfortable PU fabric so popular with Scandinavians, and with thousands of our satisfied Waterproof World customers too.

And introducing Playshoes from Germany. Eco-friendly fabrics, and in great designs with matching wellies and umbrellas too. Look out for our great 'deal' price of rain cape (poncho) or jacket and umbrella together!
---
We are always being asked if we have anything for parents - often by Mums with lots to think about in a short time before a big trip or holiday. In response we've added Scandinavian style adult jackets, trousers and bib and brace dungarees from Danish brand Ocean Rainwear, as well as some super practical packaways for grown ups and mac in a sac long length coats. We know that when you've a 'to do' list as long as your arm, getting the whole family's waterproofs sorted out in one go can make life simpler - especially with our service and fast delivery to rely upon!
---

As a result of our involvement with schools and groups, we have forged a close alliance with the School Grounds Charity, Learning Through Landscapes (LTL); working alongside them in promotion and development of outdoor learning.
We were honoured to be asked by them to showcase a selection of our products within the Growing Schools Garden at the RHS Hampton Court Flower Show. The garden was designed by TV gardener Chris Beardshaw and co-ordinated by LTL, and it won both gold medal and the coveted Tudor Rose (best in show) award.

Our display was included to highlight the importance of all-weather clothing in quality outdoor play and learning. Read more about the garden here.
---
We know that kids like to get wet when they play - just as much as they like to stay dry!! So we have a fantastic range of Wetsuits and UV Wear all year round for use on holidays or at the pool. Click here to visit.
---
We love to see our products in action, so we have run a series of photo competitions for our customers, and now we have announced our April 2014 winner!!
This time little Jess J and Mum Kate take the prize with their sweet pictures of Jess crawling in her Regatta Puddle Suit - enjoying her weekend in Wales despite the wet weather.
'A big thank you to all our contributors for the great pictures - see them here...
We are running another competition, so keep taking the photos, and keep sending them in, as any contributions received in the meantime will be automatically entered (click here for terms).
---